As fall approaches and the cold air arrives, our thoughts turn to one of the most entertaining days of the year - Halloween. While we're not sure which costume will win out for this year's best Steampunk Halloween costume, we do know there are many more options being sold on the commercial level then ever before. We here hear the snickers and shouts of the purists in the back don't worry. A true Steam-punker will make their own costume and be 100% original - however that is not to say that a little pre made costuming here and there isn't a huge help! We've listed a few options below for the easy store made Steampunk Costume, and a few links to places where you can get those hard to find Steampunk costume items.
Halloweenmart.com has a boat load of costumes (obviously). What is different this year is that they have a fairly large selection of full Steampunk costumes that you can purchase and where out that same day. While we're not a fan of many of their Steampunk looks, we are fans of their accessories. These goggles for example are pretty decent and not a bad price. For those of you working on home made costumes, that need a little flair it might be worth checking out the accessories here. Not to mention, while you are there you can get your chuckles on by looking at some of the ridiculous Steampunk outfits they have listed.
Plan your Steampunk Halloween costume early and get good deals on accessories!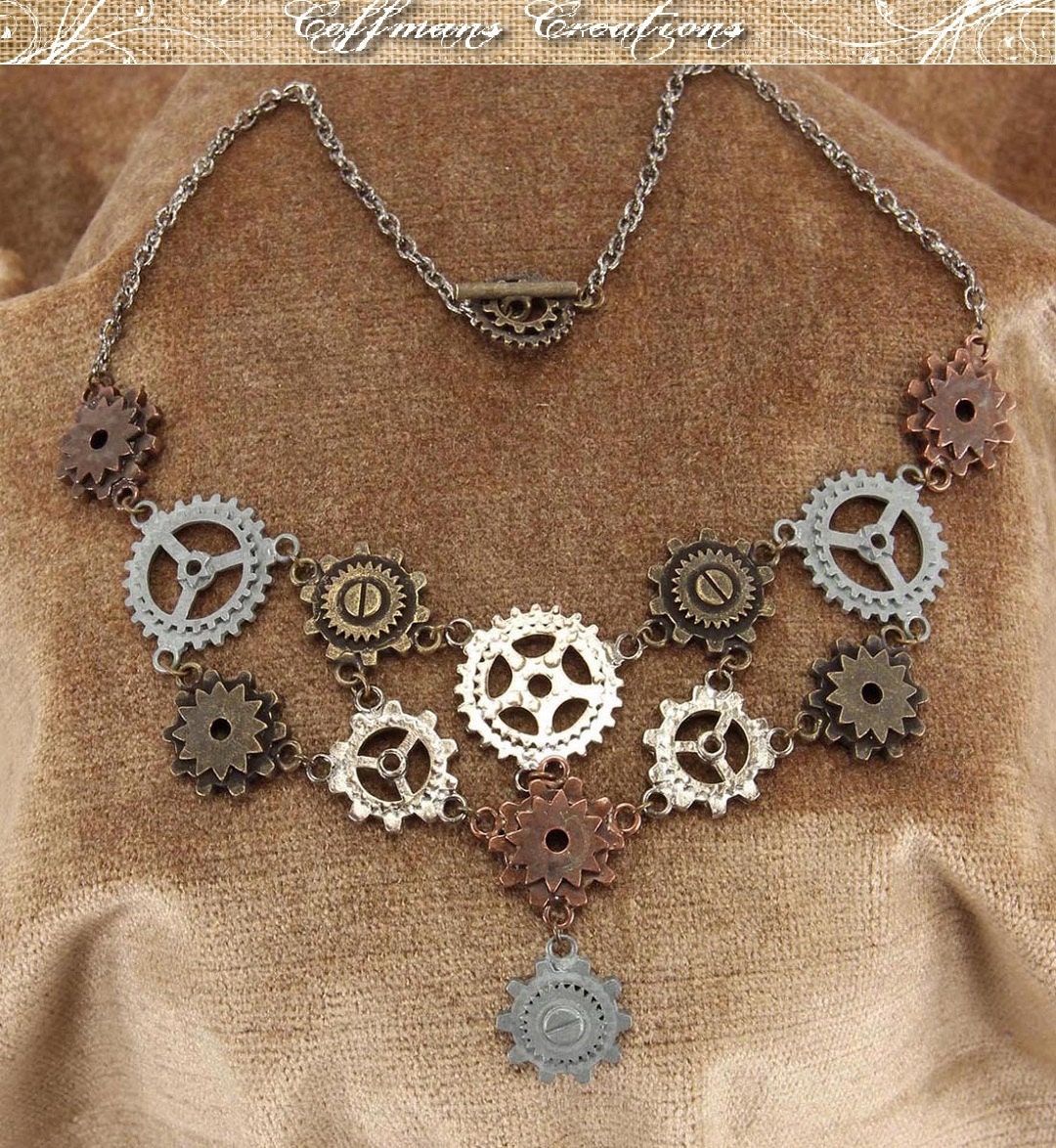 Another option to find some good Steampunk gear for your outfit is Etsy. There are quite a few shops over there that have a large variety of costume materials that fit the Steampunk universe. Seen here is a quite nice gear necklace that could be used in any number of costumes this Halloween. The detail work is key to any good costume. Spend some time taking care of all the smaller pieces of your outfit - the more details you can pack into a costume the better. A complete Steampunk outfit is hard to find, so a variety of sources might be necessary to find all the essential pieces.
As always, Ebay is a great resource to find any number of Steampunk items. Be careful to leave yourself enough time to win an auction and still have time to update your Steampunk Halloween costume. One good option is the buy it now function - and ship directly to you asap. All Hallows Eve is just over a month and a half away, time goes fast! Here are a few Ebay items that might help your costuming out: